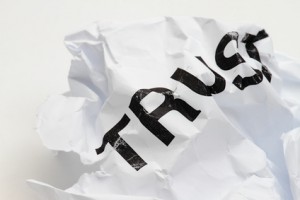 Being trusted involves more than personal integrity. Just because a leader is honest and respectful of others, doesn't mean that they are necessarily an effective leader. The component of "performance trust" is also a crucial aspect of leadership effectiveness.
It doesn't matter how nice and caring you are; if you don't deliver high quality work in a reliable and consistent way, then your ability to lead will be dramatically reduced.
Possible signs of performance mistrust
    People will go around you in the organization to get things done.
    Even though you are the leader, you feel "out of the loop".
    Your vision and ideas are not taken seriously by the team.
    People ask for a lot more information about your plans than you
    would normally expect to give.
    Team members stop coming to you with their problems and for work
     advice.
    There is a growing, underlying frustration in the team.
    There is an ongoing loss of quality team members.
So, stay focused, sharp and effective. Be a leader that the team can always count on and keep doing this every day, week, month and year.
_______________________________________________

Steve Bagi is the principal of Actuate Consulting and a consulting psychologist and speaker who has over 25 years of experience in leadership and organizational development. He specializes in helping staff teams to understand and develop their strengths, leading to greater individual and team effectiveness. Although based in Australia, Steve works with leaders throughout the world.  _______________________________________________